Small Animal Sanctuary (and Vegan Retreat)
First Things First:
To protect the sanctity of our vegan retreat for all guests, animal derived food products (meat, fish, milk, cheese, butter & eggs) and food products containing such ingredients are not allowed on the premises.
Any breach of this rule may lead to you being asked to leave on the same day with no refund. With regards to food for your companion animals, we are happy to make an exception provided it is packaged as 'pet food'. Free samples of Benevo plant based cat and dog food are available on request.
An exclusion like that doesn't make the best welcome, but when it's out of compassion for animals it sets the scene for a place of peace which we hope you will enjoy.
The Base has been created by vegan couple Jacqui & Fiaz who are very experienced hosts who also run a small animal sanctuary with chickens, turkeys, ducks, rabbits and guinea pigs all rescued from animal agriculture and other life threatening and neglectful situations. They roam free in the garden during the day and they represent everything this place is about.
Guest accommodation is a luxury self contained cabin in the garden, individual ensuite rooms in the main house and an optional large outdoor hot tub.
All rooms are well finished with an espresso pod machine, smart TV and underfloor heating. Exciting breakfast and evening meals are also available.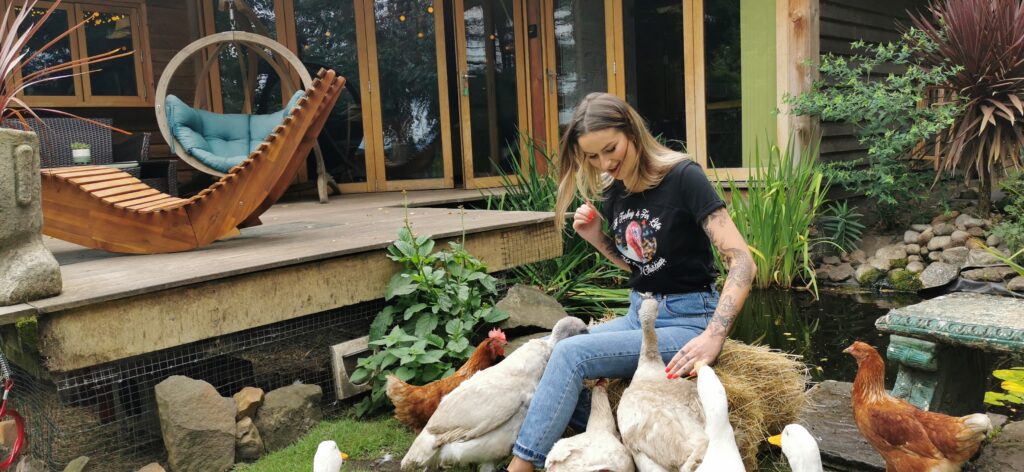 Accommodation
The down is on the ducks, not on the beds. All our bedding has 'soft as down' synthetic fibre filling.
The Cabin
With an elevated position, the decked terrace gives open views of the mature gardens and dramatic sunrises over the rolling Cotswolds beyond.
The entrance opens into a spacious studio area with a kingsize bed, ensuite bathroom and full kitchen complete with dishwasher, washing machine and dryer. Adjoining the studio room is the second bedroom, also with a kingsize bed. Perfect for summertime but also very cosy in the winter with underfloor heating throughout and a wood burner.
The kitchen in the cabin is fully equipped with glasses, crockery, pans and utensils and also a coffee capsule machine for fresh espresso coffee. Towels, hairdryer, iron and travel cot are also included as are other essentials like coffee pods, firewood and loo roll.
Rooms in the House
These are creatively refurbished double ensuites and are equally well appointed with underfloor heating, coffee capsule machine, fridge, iron and hairdryer etc.
Location
We are located in Hanham on the east edge of Bristol. Just 20 minutes' drive to Bristol's vibrant city centre, and 30 mins to the picturesque and historic city of Bath.
Located on the edge of Bristol towards Bath, Cock Road Ridge is on our doorstep and is ideal for taking The Dog out with hills, wooded areas and views. Perfect!
Staying at The Base feels like you're in the countryside but we are under 5 minutes' leafy stroll to the hidden Aspects Leisure Park with multi-screen cinema, restaurants, pub, 10 pin bowling, gym and swimming pool! Frankie & Benny's have a separate vegan menu. A few minute's further walk is Gallagher Retail Park with clothes shops, 24 hour supermarket, Subway, Cafe Nero and Costa Coffee.
---
We're supporting EverydayActivism.co.uk
Tees, Hoodies, Free Outreach Stuff and more!
EverydayActivism.co.uk is a non profit created by Fiaz & Jacqui to support animal rights campaigns and animal rescue by supplying free or cost price outreach and activism materials.
It is funded by The Base Retreat, public donation and merchandise sales. Every penny that comes in goes out to support animal rights, liberation and rescue. Nobody takes any kind of wage or remuneration, and all labour is voluntary.
It has a transparent and open source ethos, with all digital print artwork freely available for editable download.
Open Banking
Bank account transactions are published in real time showing all donations and purchases made with those donations, so you can be sure every penny of your money is going where it should.
Upload Artwork for Your Campaign
If you need leaflets, banners, placards, hoodies etc for your campaign, they are all set up to provide printed materials at cost price and even for free if possible. Just upload a high res photo, scan, pdf, .svg or .eps of your artwork.