The Base Vegan Retreat Animal Sanctuary
Based in Bristol (the UK's Vegan capital!) our animal sanctuary offers the opportunity to meet graceful and enlightened beings liberated from farming and neglect, or those just in need of a new home.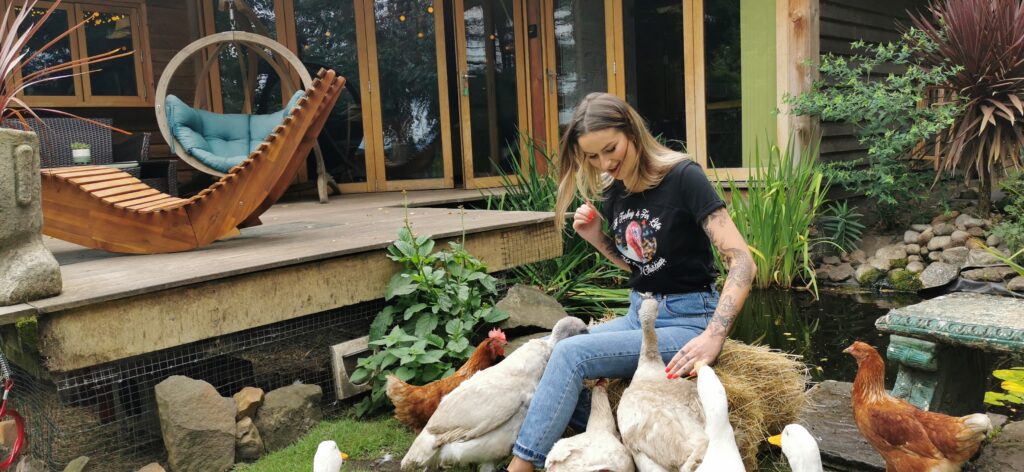 We are a not-for-profit. The care and feed of the animals is financially supported by a luxury guest cabin and by public donation.
Luxury Guest Cabin
House Rule #1:
Animal derived food products are not allowed on the premises.
This includes meat, fish, milk, cheese, butter & eggs and food products containing such ingredients.
Whilst we accept innocent mistakes, flagrant breaches of this rule will be dealt with seriously. This is to protect the sanctity of our vegan retreat for all guests, current and future. A note about pet food.
The luxury cabin with a view, at the top of the garden, has an elevated position, the decked terrace gives open views of the mature gardens and dramatic sunrises over the rolling Cotswolds beyond. The cabin is a bespoke self build with a calm and spacious interior. It has a large studio area with king size bed, smart TV and an ensuite bathroom, and a separate adjoining bedroom also with a king size bed. Underfloor heating through out and a wood burner makes it warm and cosy all year.
The kitchen is fully equipped with espresso pod coffee maker, dishwasher, washer and dryer. Towels, hairdryer, iron and travel cot are also included as are other essentials like coffee pods, firewood and loo roll.
Breakfast & Afternoon Tea
We also provide vegan breakfast and afternoon teas, each freshly prepared to order by your hosts and delivered either to the cabin or in the gardens.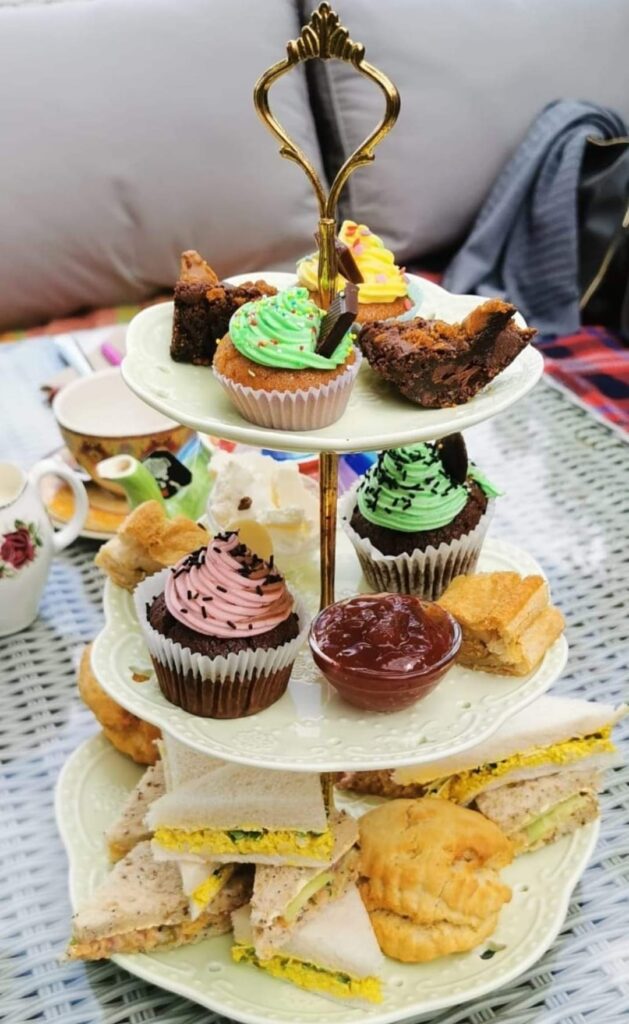 The cabin includes a fully equipped kitchen with an espresso pod machine, smart TV and underfloor heating throughout and a real wood burner. Very cosy in the winter. We are also fully licensed serving organic wines and prosecco, all vegan of course.
Small Animal Sanctuary
The animal souls living here take forms known as Rabbit, Chicken, Turkey, Duck, Guinea Pig, Dog and Cat. Taking the time to see the individual in each one allows us to see 'who' they are. They roam free in the garden during the day, doing the things they need to do. We aim to make the whole place and guest experience testament to why putting animals first is the most beneficial thing we can do for ourselves, individually, socially and globally.
Our VIP animal guests are granted a free stay for life. It is central to what we do. Having someone to look after is good for the soul.
Although they are mainly an endearing nuisance, it is a pleasure to watch these lucky souls who have landed on their feet and are finally allowed to do the little things that make them who they are. Dirt baths, digging, sunbathing, having 'food fights' and playing territorial gangsta tag.
Animal Advocacy
Campaigning against our dominion over animals and promoting an evolution of humanity is an essential extension of our work.
Outdoor Hot Tub
A large outdoor hot tub is also available to book for your exclusive use at additional cost. Situated under the canopy of a mature eucalyptus tree which hangs above, it is perfectly complemented by a bottle of prosecco on ice served 'tub side' at your request.
Location
We are located east edge of Bristol, convenient for Bath. Just 20 minutes' drive to Bristol's vibrant city centre, and 30 mins to the picturesque and historic city of Bath.
Staying at The Base feels like you're in the countryside yet we are under 5 minutes' leafy stroll to the hidden Aspects Leisure Park with multi-screen cinema, restaurants with good vegan options, a pub, 10 pin bowling, gym and swimming pool! A few minute's further walk is Gallagher Retail Park with clothes shops, 24 hour supermarket, Subway, Starbucks and Costa Coffee.
Cock Road Ridge is on our doorstep and is ideal for taking The Dog out with hills, wooded areas and views.
---