Evening Meals
FOOD UNAVAILABLE
15th to 28th July inclusive
20th to 22nd August inclusive
Eat Peace
with The Base Retreat's creative, vegan, flavour packed meals.
FOOD ALLERGIES: Please advise us of any allergies by text message when ordering.
Last orders 4pm, after this it's subject to availability.
Last serving 8pm
Meals are served either to your room or the garden.
---
Tofish Buddha Bowl. (Vg)
A kaleidoscope of colour made of sliced and chopped vegetables, herbs, seeds and citrus juices all fresh and alive and still absorbing the light of the Sun. Nutrients in the plant cells and fibres perfectly packaged by mother nature for harmonious digestion by herbivore Earthlings. That is a Buddha Bowl, but ours comes topped with 2 slices of organic tofu wrapped in Japanese seaweed then battered and deep fried into crispy sea-flavoured munchiness. Topped with minty mushy peas and caper mayo!
Includes dessert, £18
---
Satay with a bit of Oumph. (Vg)
Satay sauce with stir fried veg, 'oumph' and tempura served with sticky rice.
Includes dessert. £18
---
Indian Sharing Plate
A generously portioned sharing plate of curries, rice, samosa, aubergine fritters, salsa filled pastry shells, crispy fried flatbreads and dips and chutney. £35
Subject to slight variation.
---
Indian Snack Plate (Vg)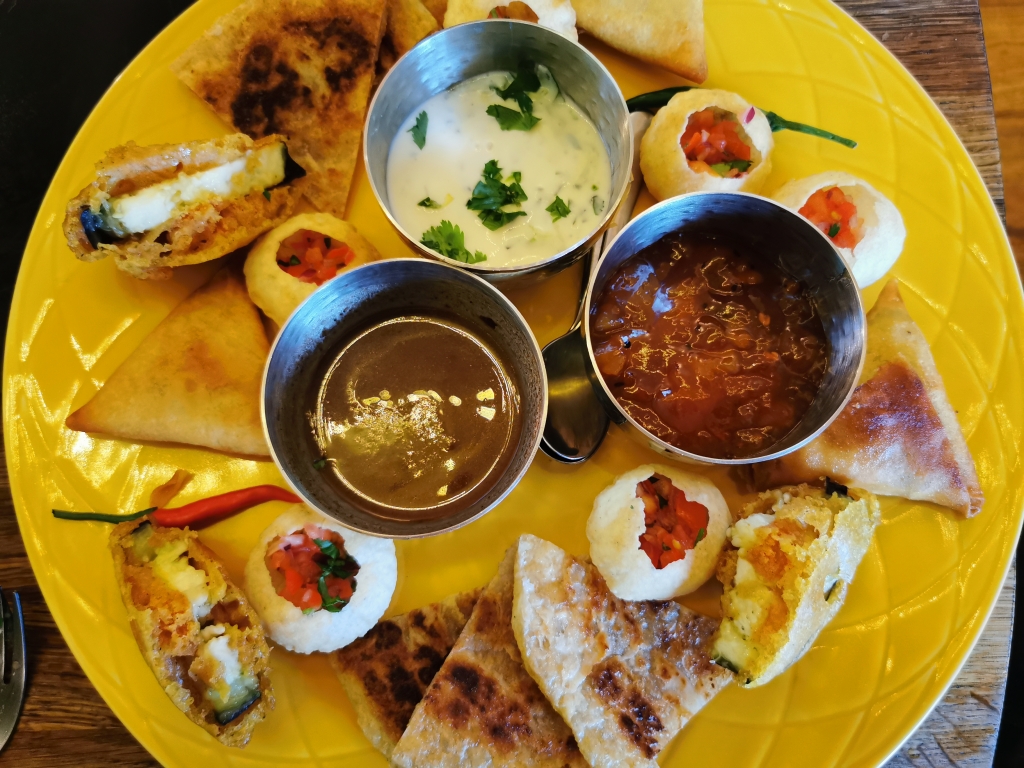 A selection of light Indian snacks and dips including samosas, aubergine fritters, pani-puri (crispy salsa filled shells), and paranta (pan fried flatbread). £18
Subject to slight variation.
---
Organic Vegetable Soup (Vg)
Fancy a light bite? Home made creamy organic vegetable soup with coconut cream, served with chunky toasted home made bread. £9
Variable vegetables, please ask what's on!